The Oregon House Transportation Committee held a hearing on April 8 regarding HB2696, the "Coastal Parkway bill." The bill did not move forward to a working session, and thus died in this legislative session.
What is of note is how overwhelming the opposition was. In advance of the hearing, 278 people signed the on-line Stop the Coastal Parkway Bill petition, of which 161 sent e-mails in opposition directly to the House Transportation Committee. This contrasted with 1 proponent in writing, and that came from the developer!
Additionally, 93 pieces of written testimony in opposition were submitted vs. 2 in support. Of those who testified at the hearing, 21 we in opposition, 1 neutral and 4 in support (of which two were the developers).  The majority of the "support" were those saying the State needed to explore new approaches to solving our road problems, like tollways.
The Marion County Commissioners provided unanimous opposition in person, making it clear that in addition to destroying high value farm land, there was no public support for this bill. Commission Carlson documented the County resolutions and correspondence in opposition to this development. Commissioner Milne pointed out that while she was in the legislature, she worked on a bill that became law that allows the state to create toll ways-a new law that is project-specific isn't needed. Commissioner Brentano made clear that the County has opposed this development for years and requested that the committee "just let it die!"
Among the opponents on record are:
Marion County Commissioners
Yamhill County Commissioners
Association of Oregon Counties
Marion County
Farm Bureau Oregon Farm Bureau Oregon
Dairy Association
City of St. Paul
St. Paul Fire Department
1000 Friends of Oregon
Friends of Yamhill County
Friends of French Prairie
Oregon Department of Transportation testified, and while they did not take a position on the specific bill, made clear that current law provides for condemnation when required, and for toll ways, but that they seldom occur because projects like this can't move forward without both public support and adequate funding.
Dozens of local farmers attended, asserting their opposition by their presence, and making clear that high quality ag land as well as their livelihoods and the French Prairie ag heritage shouldn't be damaged by a law such as this—designed to benefit a for-profit company at the expense of the local citizens.
This was an outstanding example of all parties pulling together (in spite of other differences that might exist) to protect French Prairie and Oregon's historical and agricultural heartland.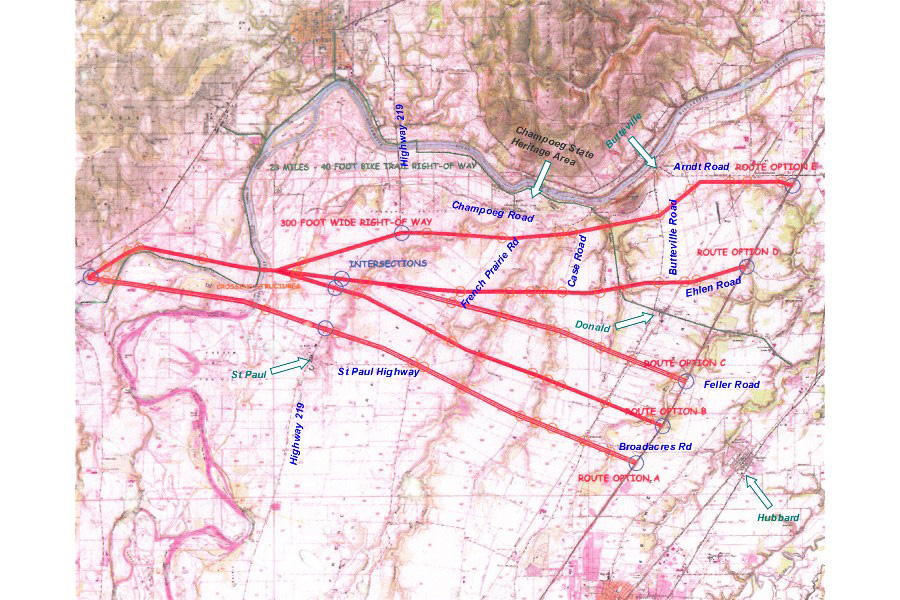 In early February Youngman began trying to meet informally with farmers in St Paul and Donald to build grass roots support, and has subsequently met with the City of Donald. They have previously met with City of Salem Public Works, Marion County Public Works, representatives of ODOT and have additional municipal meetings scheduled:
Monday, April 12, 2010 at 6:30 pm with Mayor and City Council of St Paul
Thursday, April 15, 2010 at 9:00 am with Marion County Commissioners in Salem
Tuesday May 22, 2010 at 6:45 pm, with Mayor and City Council of Donald.
The positioning sell is for a privately funded parkway to address chronic transportation problems across French Prairie which neither the State of Oregon nor Marion County have the funds to address. They claim this type of project would help "farmers get their products to market," and imply that it would make the Dundee Bypass unnecessary.
The project proposal contains five possible routes, all originating at different points on I-5, and terminating at Dayton. What is striking is that the design includes only three interchanges: one at I-5, one on Hwy 219 north of St Paul, and the third at Hwy 221 at Dayton. All other north/south roads in French Prairie would either be crossed with an overpass or dead-ended. This is clearly not a project designed to provide any benefit to French Prairie, and virtually none to Marion County. It is designed to directly benefit Yamhill County and businesses in the McMinnville area, and provide some improvement for private traffic flow to and from the Oregon Coast.
What it proposes to do is cut French Prairie in half, and consume the best farmland in the country in the process in order to benefit the few.  Coastal Parkway LLC apparently has a number of yet undisclosed investors, who clearly stand to make large profits if the project were to go forward.
Friends of French Prairie is collecting signatures on a petition to present to the Marion County Commissioners on April 15 to make clear that the farmers and residents of French Prairies are adamantly opposed to this project.
To learn more and sign the petition, call:
Ben Williams at 503.568.5670
Marcie Garritt at 503.633.4660
Cindi Elliott at 503.702.4402
Supporting Materials