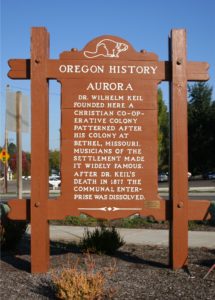 The Utopian society of Aurora was established by Dr. William Keil, a self-styled preacher, who attracted a following for his fundamental Christian preaching which centered on the Golden Rule and his belief, "from each according to his ability, to each according to his need." In 1856 Keil purchased the George White donation land claim on the Pudding River, a day's horseback ride from Oregon City along the route that became the Territorial Highway. Keil named the town Aurora Mills after his daughter, and cooperative effort, industry, and unquestioned obedience to the dictates of the astute Dr. Keil, led to the rapid growth of the Colony.
By the end on 1867 the settlement numbered some 600 souls. These pioneers built their own homes, shops and mills on the 18,000 acres of land acquired by Keil with communal funds. They were independent, self sustaining and content. Good music, delicious food and friendliness combined with a love of God, brought them happiness unmatched elsewhere in the West of that day. As Oregon's first National Historic District, the town's distinctive original architecture is home to a first-class museum complex and an unrivaled antique shopping experience that earns its designation as the state's antique capital.
For more information visit: www.auroracolony.com.
Historic Sites in French Prairie
A Photo Gallery