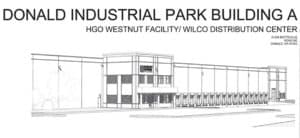 The first site to be developed in the Donald Industrial Park, on the city's north boundary facing Butteville Road, is a massive (approx. 240,000 sq. ft.) building divided into two parts. The north portion (119,925 sq. ft.) will be the new Hazelnut Growers of Oregon facility and the south portion (118,225 sq. ft.) will be the new distribution warehouse for Wilco, to supply their retail stores.
Site preparation is under way and permits for construction have been submitted, and the impact on traffic safety promises to be massive, coming on top of ten years of development with limited traffic mitigation and improvements.
Friends of French Prairie has done a detailed analysis of the public and internal communications of Wilco/HGO as well as of the documents submitted for this project, and it appears to us that the Traffic Impact Analysis is being substantially understated. This is a potentially huge problem because it means that as part of project approvals, Wilco and their developer will only have to pay for limited traffic mitigation (for instance, no traffic signal at Ehlen Road and Butteville Road), and this will further compound the ever-worsening traffic safety problem in French Prairie.
We have submitted a lengthy letter to Marion County and City of Donald detailing our concerns and pointing out the weaknesses and shortcomings of the documents submitted by the developer. We urge you to read the letter and related Exhibits.
The letter calls for a pause to development approvals until a comprehensive Traffic Impact Analysis is completed, and this formal request is supported by our petition efforts detailed below.
Download these documents in PDF below: